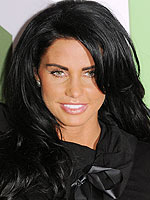 Eamonn McCormack/WireImage
In the days leading up to the London Marathon, Katie 'Jordan' Price told The Mirror that she planned to use her son Harvey Daniel, 6 ½, for motivation. "Every time I feel tired or feel like giving up, I'll look down and see my Harvey's face," she said. Literally! Katie ran with a picture of Harvey across her chest.
Together with husband Peter André, the 30-year-old model and author ran the 26.2 mile course on Saturday to benefit The National Society for the Prevention of Cruelty to Children as well as Vision Charity; Harvey is blind, having suffered from septo-optic dysplasia since birth. "It's going to be really hard but I know we're doing it for a reason, so I don't want to give up," Katie explains.
"If everyone who has pledged to donate gives us the money they promised, we should raise about £250,000 ($367,500) which will make a massive difference to the charities. It's that thought, and the thought of my kids that will keep me and Pete going."
Katie and Peter are also parents to Junior Savva, 3 ½, and Princess Tiáamii Crystal Esther, 22-months.
Source: Mirror
– Missy