Jennifer Garner: 'I Have It Easier Than Most' Working Moms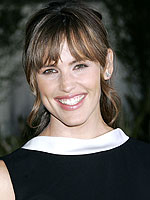 Francis Specker /Landov
Although many actresses lament the challenges of combining their unique career with family — including long hours, days, weeks and even months away from home — Jennifer Garner isn't one of them. "Acting is a great working mom's job and I have help," she points out to the Sunday Herald. "I think it's difficult for every working mother, [but] for me, I have it easier than most." Case in point? She's currently out promoting Ghosts of Girlfriends Past, a film she shot 11 months ago. In the interim, Jennifer has had "all this time off, to be home, to be adjusting to preschool, to be making dinner every night," she reveals.
From the sound of things, the break might have been a bit too long! Jennifer admits that it's been hard to tear her away from daughters Violet Anne, 3, and Seraphina Rose Elizabeth, 3 ½-months. "When I first hear about a job, my immediate reaction is, 'I can't do it. I don't want to do it,'" she admits. Still, the 37-year-old says she feels "a pull" to act.
"I love my job. I love what I do and I think that it's a huge decision to stay at home and not have that, particularly given the flexibility that I have. But I now have to love something almost too much in order to say yes to it because I just want to hang out with my girls. I didn't anticipate that. I thought that I was much more of a careerist than that."
Noting that "it's a juggle, for sure," Jennifer says that striking a balance between career and family is something she works on every day. "For example, my baby is in the next room just now, so at some point I'm going to say, 'I'm sorry, I have to take a quick break,'" she explains. "You just really rely on people's kindness and leniency and patience." While she is undeniably drawn to her craft, once she is on set her approach to acting has definitely changed. "These days, with work, I come in and I go," she admits. "You don't want to sit and chat; You want to get in and get to work."
"And, definitely, every bit of the day is planned and revolves around the children. Having two is kind of blowing my mind."
Click below to read about why Jennifer is "fat and happy."
Married to actor Ben Affleck since 2005, Jennifer feels that "having kids is a much bigger commitment" than marriage. Her Girlfriends Past co-star Matthew McConaughey muses in the film that "love makes you weak, dependent and fat," and it's a sentiment Jennifer seems to identify with! "Look at me," she agrees. "I'm 20 lbs heavier than before, but I'm fat and happy."
That said, when asked by the interviewer what love advice she plans to give Violet and Sera someday, Jennifer squirms. "I can't even think about it," she admits. "It just makes the hair stand up on the back of my neck."
"Respect would be a huge, huge part of that… they should demand respect. Demand it. Absolutely, you have to be a self-confident woman to demand respect from a man. And it doesn't hurt to learn a good right hook."
Ghosts of Girlfriends Past is in theaters Friday.
Source: Sunday Herald
— Missy