Rebecca and Jerry's Lunch Date With the Twins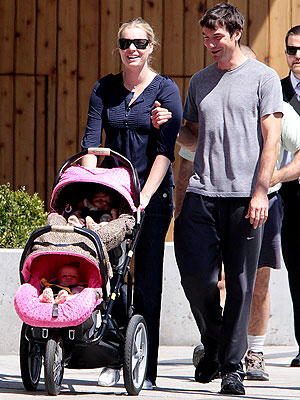 Sean O'Neill/INF
Enjoying the sun, Rebecca Romijn and Jerry O'Connell stepped out for lunch in Toronto on Monday with their fraternal twins, Dolly Rebecca Rose (bottom seat) and Charlie Tamara Tulip (top seat), 4 months.
Staying in the city while filming The Love Child of Andy Warhol and Yoko Ono in the town of Hamilton, the couple has been seen out and about quite a bit — when they aren't watching Dancing With the Stars and American Idol with the girls, that is!

Rebecca pushes a Double Decker Twin Stroller ($295). The girls are in Graco SnugRide infant car seats ($160) in Platinum with Itzy Ritzy Baby Ritzy Rider infant car seat covers ($110) in Leopard and Fuchsia Minky Dot. (Please note that manufacturers recommend against using third-party accessories with their car seats.)
Click below for a close up of Charlie and Dolly, who were awake during the walk!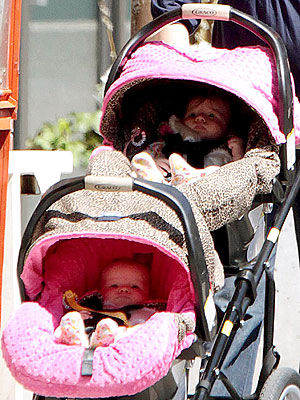 Sean O'Neill/INF