Patton Oswalt Welcomes Daughter Alice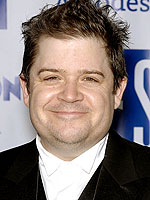 Michael Germana/SSI Photo/Landov
Forget about the fromage and bring on the pink! Patton Oswalt, who is the voice of Rémy in 2007's animated hit Ratatouille, and his wife Michelle have welcomed their first child, a daughter. Alice Rigney Oswalt was born Wednesday, April 15th at 4:13 p.m. in Los Angeles.
"I'm blissfully exhausted and exhausted-ly blissful," Patton tells PEOPLE.
The new father currently stars on Showtime's United States of Tara.
Source: PEOPLE