Nicole Richie and Her Curly-Haired Cutie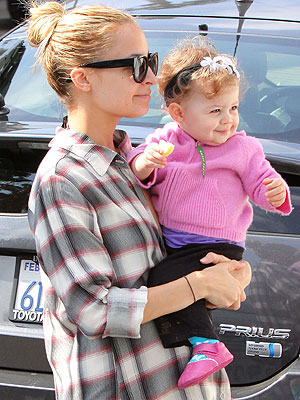 Limelight
Nicole Richie totes her pretty-in-pink daughter Harlow Winter Kate — who was munching on a snack! — as they make their way back to the car after visiting with a friend on Friday in Los Angeles.
As for Nicole's casual look, "I don't wear jewelry because Harlow puts it in her mouth and I don't wear heels because I run around after her," she explains.
Nicole, 27, and Joel Madden expect their second child in late August/early September, joining Harlow, 15 months.
See more images in their family album, The Richie-Maddens!
Harlow is wearing See Kai Run smaller shoes in Tamar ($32), Amber Hagen Baby Love 100% Cashmere Hoodie in pink (on sale for $125) and C&C California Short Sleeve Tee in Amethyst ($32).
Click here for yesterday's cutie!