Mariska Hargitay on Traveling With Toddlers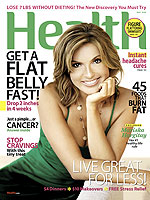 Courtesy Health
The journey of parenthood for actress Mariska Hargitay has been a learning experience from the start. While her pre-baby life is a memory of the past since welcoming her son August Miklos Friedrich, now 2 ½ years, Mariska jokes that, among other things, she has since acquired a newfound patience for traveling toddlers.
"My perfect analogy for being a parent is before you have kids, and you're on a plane, and there's a screaming kid, you're like, shut that kid up, give me earplugs, get me a blanket to put over my head!" she laughs in a new interview with Health magazine. Now as a fellow mother, the 45-year-old is more likely to lend a hand — or a smile! — to the stressed parents.
"Because you think about the time your kid was screaming, and you know everyone hates you, and there was the one parent who looks at you and smiles, and that compassion is everything."
Despite her busy schedule, Mariska manages to find pleasure in the simplest of things. Her remedy for life's troubles? Laughter, and for her, the ability to laugh is not one she takes for granted. "I always try to laugh," she says. "Between August — and the things that come out of that kid's mouth — my friends, my husband … I laugh a lot."
Still, while her son's sayings keeps her in fits of giggles, the temptation to add to her family of three isn't pressing on her list of priorities.
"You know, I have no idea. Do I want more? Sometimes. Am I scared of it? Yeah! I have a lot on my plate, so I can't say I want more of anything right now."
August is the first child for Mariska and her husband Peter Hermann.
Source: Health
— Anya