Kelly Rutherford Revels In Her Greatest Role: Motherhood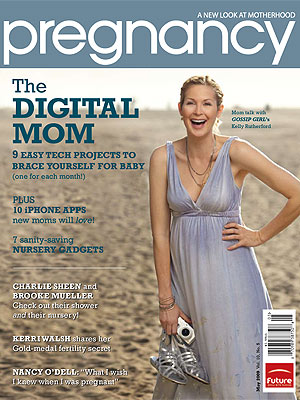 Courtesy Pregnancy for use on CBB
Done shooting this season of her hit show Gossip Girl, expectant mama Kelly Rutherford — she's due the first week of June with a baby girl — has settled down in Los Angeles with her 2 ½-year-old Hermés Gustaf Daniel as the two await the big day.
After delivering her son, Kelly tells the May issue of Pregnancy magazine she finds comfort in knowing what awaits her on delivery day. "You think you can prepare, but nothing can prepare you for the first time you give birth for that experience because it's just so extraordinary," she says of Hermés birth.
Revealing she is "so excited," the actress hopes to follow a similar birthing plan with her daughter — one which will allow her to be comfortable in her own home as she labors.
"I'm very close to where I give birth, the hospital and my doctor is so lovely he usually comes to the house and checks on me and everything," she says.
In an effort to deliver "as naturally as possible," Kelly has also contemplated having a doula on hand; Her first experience with Hermés is something she fondly remembers.
"I think no matter who's there by your side whether it's your mother, your husband, whoever, there's something nice about having that neutral party because they can help and keep everyone else around you together."
Kelly's thoughts on facing motherhood alone, her greatest challenge, and many more photos below.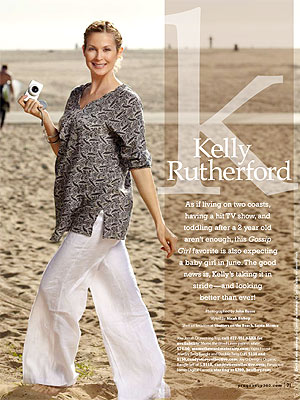 Courtesy Pregnancy for use on CBB
Recently estranged from her husband Daniel Giersch, Kelly has maintained her focus on family as she searches for a way to "handle everything as gracefully as possible" for the sake of her children. Gaining strength from her own mother and close friends, the actress lists her love for her babies as her top priority.
"Work and sometimes relationships are challenging, but once you have kids it puts everything in perspective and you just want what's best for them," she tells Pregnancy.
"I have a lot of support around me, friends and family have been great, and friends with kids."
As Kelly is determined to keep her mind on baby girl, she laughs that Hermés has another agenda! "Sometimes he gets it and he's into talking about it and sometimes he's like, 'Let's not talk about that yet.'"
Still, the expectant mama — who will "include him in everything" — has no doubt that he will make her proud as a big brother.
"He loves to explain things, so I'm sure he'll have fun explaining to her how things are, how things work."
While the family of three will spend time together following baby-on-the-way's arrival, Kelly's return to the Gossip Girl set is scheduled for July. Fortunately for the mom-to-be, her kids will never be far!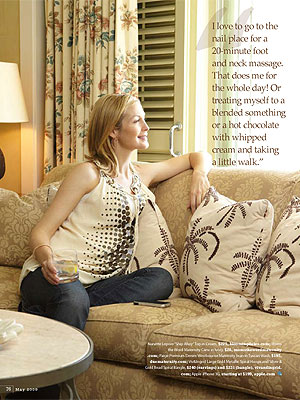 Courtesy Pregnancy for use on CBB
Reiterating that her show has been "really wonderful" when it comes to her dedication as a mother, the actress plans to bring along a set of extra hands in the form of a traditional British night nurse.
"I'll have her help with the baby in the beginning so I can nurse and do all that."
Still, despite always having her family close by, the 40-year-old admits that her greatest downfall as a mother is her constant worrying.
"There are so many things you think about and worry about and I think it's natural," she tells Pregnancy.
Fortunately, after checking in with a few of her girlfriends, a relieved Kelly realizes that her wandering mind can simply be attributed to being a mother. "Sometimes you think it's just me, I'm just overly worried about things," she says.
"You want to do the right thing. There's always an element of you that wants to do the right thing, am I doing the right thing? I just really try to follow my own instincts and say, okay, at least if I follow my own instincts one way or the other I can be accountable for it."
The benefits of motherhood outweigh all of the challenges, says Kelly, who finds herself exploring the great wonders of the world through the eyes of a toddler.
"Now he's making sentences and he wants to see everything and point everything and show me what it is," she reveals. "It's like rediscovering the world again."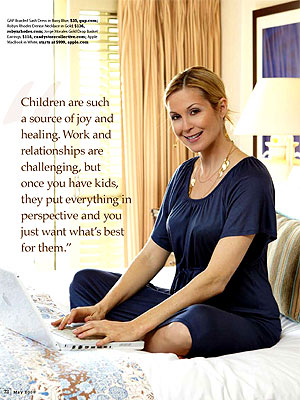 Courtesy Pregnancy for use on CBB
Asked to list her favorite thing about motherhood, Kelly doesn't hesitate to say that what fills her with joy is her baby boy's smell.
"The smell thing is huge. The first thing I have to do when I see him is smell him. I just have to smell him and kiss him and hold him. It's kind of those instinctual things I guess."
Amidst it all — work, taking care of Hermés, and preparing for the new baby — Kelly still manages to find time to relax. Her secret? Finding things that make her happy. "Like I go to the play center with my son. I go to the park. I get out of the house. We take the dog for a walk," she reveals.
"A lot of what takes me away from worry is being with my son. We went to the play center the other day, and there were kids there, he played with all the toys, we painted, we spent three hours together experiencing a whole other world and those things make me happy."
While she manages to take the occasional break from her daily life to slip in a pedicure or a lunch out with the girls, Kelly's greatest joy always remains the same: her blossoming family.
"I love to go to the nail place and get a massage, just a 20 minute, pop in, go to one of those little ladies and get a foot and neck massage. That does me for the whole day, I'm thrilled. Little pleasures like that, just going and getting a hot chocolate. It's not really big things right now, it's simple things."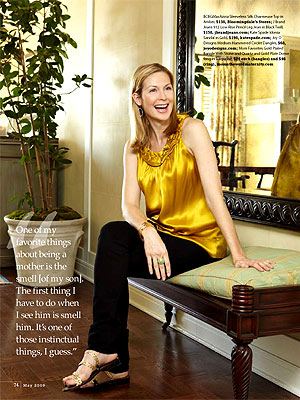 Courtesy Pregnancy for use on CBB
Source: Pregnancy; May issue
— Anya