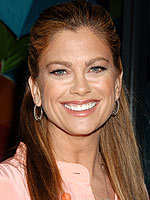 Roger Karnbad/Celebrity Photo
When asked by Time Out New York Kids to describe herself as a mom, Kathy Ireland doesn't hesitate. "Tired, joyful and constantly amazed," the 46-year-old model and entrepreneur replies, before adding "Our kids are incredible…they keep us humble, and they teach us so much." That reward far outweighs any risk she might have felt when putting her career on the back burner in order to care for her three children Erik, 14, Lily, 10, and Chloe, 6. "On a panel I respectfully disagreed with Barbara Walters, who said she didn't believe women could have it all," Kathy notes. "I think we can — only not all at once."
"Our kids are only going to be little for a short window of time. For me, that means I have to say 'no' to a lot of things for now. I didn't learn that no is a complete sentence until I was 40. You don't need to attach an excuse. There are only so many hours in the day. Sometimes we have to say no to good things so we can do great things."
Ironically, the kids played a role in her decision to start her self-named company Kathy Ireland Worldwide. "Becoming a mom for the first time changed my life in so many ways," Kathy explains. "My mission crystallized after my son was born: It's finding solutions for families, especially busy moms." The things Kathy learned she'd "taken for granted" previously — like taking a shower! — suddenly became "a huge luxury." She goes on to joke,
"I don't know if Elizabeth Taylor intended it when she developed it, but [her perfume] White Diamonds is really a solution for busy moms: It's a shower in a bottle! It comes in handy on those days when you can't fit bathing in."
Finding time for exercise is also a struggle for many moms, and Kathy recently went on record with her own battle of the bulge. "The gain was gradual, about a pound a year for the last 25 years," she admits. "Very easy to sneak up on you!" It was her children who inadvertently alerted Kathy to the problem. "Our son was running around with a new camera he got, taking pictures of everything in sight [and when my youngest saw one of the pictures he'd taken of me], she blurted out, 'Mommy, you look pregnant,'" Kathy recalls. Having since shed the extra pounds, Kathy says her focus is now on staying healthy for her loved ones. "I want to be there for my family," she explains. "I don't want to leave my husband to raise our kids alone."
Erik, Lily and Chloe are Kathy's children with husband Dr. Greg Olsen.
Source: Time Out New York Kids
– Missy