Jennifer Garner Dishes on Her 'Happy Chaos'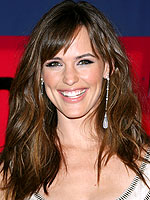 Jen Lowery/Startraks
Some lessons are learned the hard way and for Jennifer Garner, the downside of being open and honest about her private life is one of them. "When I first started out, my natural inclination was just to tell you everything that you could possibly want to know about me, my husband, my kids, my family, my childhood, any dark scene that ever happened to me," she admits to the Pasadena Star-News. "I'm an open person that way; so it has taken me years to learn." And while she still — at times — says more than she wants to, at the same time, it's hard not to talk about the "happy chaos" of her personal life.
A mom of two — together with husband Ben Affleck, she has Violet Anne, 3, and Seraphina Rose Elizabeth, 3 ½ months — Jennifer says she's grateful for the "absolute bliss" of her recent extended hiatus from acting. She's currently making the rounds in support of her latest film Ghosts of Girlfriends Past, and this summer will be back on set in the film Butter, which she's also producing. "It will be a week or so of chaos with everybody readjusting and hating it for a while, but that'll work for a couple months and I'll be done again," she explains.
"Every working woman in the world has a difficult balancing act. As a matter of fact every mother in the world has a difficult balancing act…I'm certainly not special because I'm an actress. In fact it's probably easier for me than it is for most women."
There are also days where it's easier to say goodbye than others! "I wasn't sorry to leave the house this morning," she admits. "It's a little messy."
Ghosts of Girlfriends Past is in theaters May 1st.
Source: Pasadena Star-News
— Missy