Have a Question for Josie Bissett?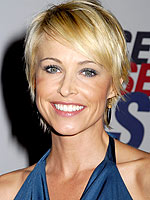 Barry King/WireImage
Actress Josie Bissett has accomplished a lot in her lifetime. First stepping in front of the camera at age 12, she struck it big on the hit TV show Melrose Place, appearing in numerous television shows and films in between. The 38-year-old decided to slow down a bit once she had children — son Mason Tru, 9 ½, and daughter Maya Rose, 7, with ex-husband Rob Estes — and has since traded in magazine covers and awards shows for motherhood and book writing (she's penned two parenting books, Little Bits of Wisdom and Making Memories).
Josie's latest venture is a children's book, Tickle Monster, a story about a friendly monster who just can't stop tickling! She also appears on The Secret Life of the American Teenager. We spoke to her previously about her experiences as a mom, actress and author, and will be again soon.
We'd love to include your questions for Josie! Please leave them below.