Tina Fey: TV Makes Alice 'Antsy'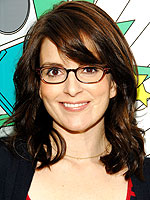 Evan Agostini/AP
Actress Tina Fey shot to fame on Saturday Night Live and now stars in the critically-acclaimed 30 Rock, which she also writes and executive produces, but if you ask her 3 ½-year-old daughter Alice Zenobia what mom's crowning achievement is, it's starring in the new Sesame Street DVD Elmo and the Bookaneers. Alice is "in love with Elmo," Tina tells Parents magazine's May issue, and she also likes Murray. Although she and husband Jeff Richmond have been trying to "cut out morning-time TV because it makes [Alice] a bit antsy," Tina says that Alice visited the Sesame Street set for the taping DVD taping nonetheless.
"She met Elmo and Oscar, though she was less than two at the time and a little scared of Oscar — but she got her photo taken inside his trash can."
Alice is "starting to" realize that mom is famous and Tina — in turn — is "trying to figure out how to downplay it." She explains,
"I want her to know that to be famous is not really important and not a sign of any kind of merit. But I do like her coming on the set and seeing how different jobs work and that people have different roles in making the show."
To that end, Alice usually visits 30 Rock once a week after preschool. "Just recently, she started to sit on the set and yell 'action' and 'cut,'" Tina, 38, shares. At bedtime, Alice is currently loving the Little Bear books and Tina's Babar books from her own childhood, but the tiny tot's favorite story is Peter Pan. When funny voices are required, it's dad who draws the biggest laughs. Adds Tina,
"I think she thinks that Daddy is funnier. And she's right. She also knows that it's good to be funny."
Elmo and the Bookaneers is available now. 30 Rock airs Thursdays at 9:30 p.m. on NBC.
Source: Parents
— Missy