Jill Hennessy Enjoying the 'Day to Day' of Two Kids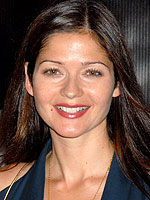 Johns PkI/Splash News Online
With the end of Crossing Jordan, actress Jill Hennessy suddenly found herself in uncharted territory — that of full-time mom to sons Marco, 5 ½, and Gianni, 17-months. "I didn't know how I'd react with not doing the acting thing every day," the 40-year-old actress admits in the April cover story for Canada's Chatelaine magazine. She also owns up to fears that many women who have stepped out of the workforce to focus on family can probably relate to.
"I wondered, if I'm not doing that on a day-to-day basis, am I going to become depressed? Am I going to start to feel that I'm no longer viable as a human being?"
Happily, Jill has has found the opposite to be true — a new creative outlet in music, and a new-found joy with the simplicity of family life. "It's amazing," she says. "I look forward to taking my son to school on our scooter and doing class things with him and saying hi to the other kids and hanging out with the other moms, getting a coffee after drop-off."
"I'm really enjoying the whole day-to-day of having two kids."
Click below to read about Jill's first foray into the music industry.
Jill's debut album Ghost in My Head — which she says was inspired by Marco and recorded while pregnant with Gianni — is slated for a June 2009 release. "I've been spending the last two years working on this thing, working on the kitchen table…in my apartment, with a 5-year-old and a baby," she tells Gay Wired. A tour is planned in support of the album, but Jill admits that it will be "kind of tricky" with the kids. One thing is certain; Stamina won't be an issue once Jill hits the road. She stays in shape with yoga, and notes that "running after two kids" is a workout in and of itself! Her diet is also one that many moms will find familiar.
"I end up eating children's leftovers. That's my diet. Peanut butter and jelly crusts, somebody's left over cereal."
The transition from television actress to musician to occasional movie star — her new film Lymelife is currently in limited release — wouldn't have been as seamless, were it not for Jill's husband Paolo Mastropietro. "[He] worked his butt off to help me realize my dream," she points out to Examiner.
"It's a balancing act. It's figuring out — my husband is much better at it than I am — how to delegate. We have my mother-in-law living next door to us, which helps immensely; plus, she's one of my best friends, to be honest. I've got an assistant working with me on the album stuff, but she helps out with the kids when she needs to."
Adding that she is "pretty happy" with life, Jill counts her blessings. "I have two incredible kids, who are much cooler than I am…I have a great husband…I have a great mother-in-law," she says. "I've got it good in a lot of ways."
Sources: Chatelaine, Gay Wired and Examiner
— Missy