Jennifer Garner and Ben Affleck Keep Things Boring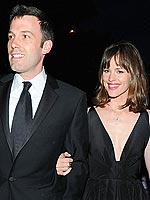 Clark Kent/Startraks
No new surprises this time around when it comes to motherhood for actress Jennifer Garner! Telling Movies.ie that her new life as a mom of two is similar to her experience following the birth of her first daughter Violet Anne, now 3, Jennifer laughs that the addition of 3 ½-month-old Seraphina Rose Elizabeth has only added spice to the mix. "[I know] it's only one more, but it feels like three more," she says.
Following a pregnancy that had the paparazzi in hot pursuit, only to be intensified once baby Seraphina arrived, Jennifer reveals that she and her husband, actor Ben Affleck, are keen on keeping their lifestyles low-key for the sake of their daughters. "We try to be boring," she jokes. For now, the couple's arrangement has worked; The two trade off their work schedules, ensuring that at least one parent is on duty.
"A big part of it is that somebody's got to raise the kids, so if we're both at work, that's a bummer for them. But there's no rush."
Jennifer's new movie Ghosts of Girlfriends Past is in theaters May 1st.
Source: Movies.ie
— Anya