Jeff Gordon: Family Hasn't Lessened Love of Racing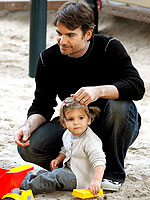 The Media Circuit/INF
Since becoming a father to 22-month-old Ella Sofia, Jeff Gordon can hardly deny that life has changed. "It's definitely made a big impact on my life," he told reporters Friday at Talladega Superspeedway in Alabama.
The 37-year-old NASCAR driver was quick to clarify, however, that it hasn't changed everything. "Family has always been important to me and been a priority but it doesn't change my focus on racing and what I do in the race car," he explains. "Certainly not how I approach racing." In fact, Jeff says he's "more intense about racing today" than he's ever been.
That said — at the same time — he's clearly smitten with his daughter. "I love being a dad," Jeff admits.
"Just this week getting to go to school with her and different classes…We went to the museum and different things. Just seeing things through her eyes is incredible."
Ella is Jeff's daughter with wife Ingrid Vandebosch.
Source: Motorsport.com
— Missy