Coleen Rooney on Baby Names: To Each Their Own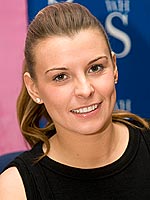 Goff/INF
Since announcing her first pregnancy, Coleen Rooney, wife of Manchester United star Wayne Rooney, has encountered a phenomenon that most expectant mothers can attest to: "Everything seems to be all babies, babies, babies at the moment," she blogs for OK! UK. Coleen recently attended the christening of a friend's newborn, and soon thereafter learned that pal Gareth Gates and his wife Suzanne welcomed a daughter named Missy. "It's a nice name, if a little bit unusual, though it's not as odd as some — the week before Jamie Oliver called his new daughter Petal Blossom Rainbow," Coleen observes. "I like it, it's really girlie."
"I know some people say it's unfair to give children names that are so 'out there,' but I'm not one for criticizing — every parent should call their baby whatever they like."
That said, Coleen said it's doubtful that she'll settle on an unusual moniker for her own son or daughter. "Would I call my baby Rainbow or Sunrise Rooney?" she asks. "I don't know if I would." There's still plenty of time for Coleen and Wayne to decide — and from the sound of things, the couple aren't in a hurry!
"I haven't thought about names yet as you change your mind all the time…Besides, people always say you should wait until you see what the baby looks like before you think about what to call it."
Baby-on-the-way is due in October.
Source: OK! UK
— Missy