Diana Krall Makes Marriage a Priority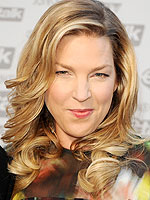 George Pimentel/WireImage
For many couples the death of romance after the birth of a baby comes as a surprise, but Diana Krall is determined not to let it happen with husband Elvis Costello. Noting that "it's so easy to just get immersed in motherhood," Diana — mom of twins Dexter Henry Lorcan and Frank Harlan James — acknowledges that it's every bit as easy to "neglect your marriage." That's why the couple "really make time with each other, and nobody else," she tells the May issue of Chatelaine magazine.
"When we get home, since the boys are going to sleep later, we see them off to bed and we watch a movie. And there's your day."
Diana says that while women can try to "do it all," it's often unnecessary, and asking for help is key. "Sometimes I have dinner parties and sometimes I cook the whole dinner and that's great," she reveals. "There are other times where, because I'm privileged to be able to ask for help, I have more time and more energy to give to my children." The 44-year-old songstress considers fatigue the "biggest challenge" of parenthood. "You're constantly tired and you're constantly trying to keep up with things that seem simple…Your coping mechanism starts short-circuiting," she feels.  Her advice is simple — sleep!
"Sometimes I don't get off stage until one in the morning and then my kids are up at seven. I have to get up! Somehow, you have to find a way to balance that."
The boys, now 2, are gearing up to hit the road with mom again, as she tours the globe in support of her new album Quiet Nights. Things will be much different than they were the last time around, however. "Now the boys are walking and going every which way," she says. "They're so interactive now." Bunk beds will be installed for the twins, and Diana will sleep nearby "so they can crawl into bed with me," she says. Hotel life is another inescapable reality of life on the road. "We really spend most of our lives in one-bedroom apartments with room service," Diana notes. "And we have to find things to do, to live in a new city and try to find a park and a playground and activities for the boys."
"It's challenging. That's where you have to really rely on your own resources and in my case, the help of really wonderful nannies. Nothing is really consistent!"
Quiet Nights is available now.
Source: Chatelaine
— Missy