Kathy Ireland: Not Afraid To Stop The Car!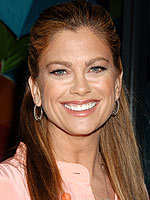 Roger Karnbad/Celebrity Photo
Many parents have threatened to pull the car over and make the squabbling siblings in the back seat get out, but not all will follow through. Kathy Ireland isn't afraid to make good on the threat, however! The 46-year-old model and author recalls driving down the freeway with Erik, 14, Lily, 10 and Chloe, 6, when a fight broke out. "It was very distracting," she tells Cookie. "My ugly mad-mom voice came out!"
"I had to get off the freeway, find a safe place to pull over, and make everybody get out of the car and sit on the curb. I stood in front of them to block the traffic, while I let them work it out."
Although the kids were late for school, Kathy feels it was worth it in the long run. "They stayed there until there were sincere apologies and forgiveness all around." That said, Kathy says her role in the family is not good cop nor bad. "As their mother, it's my responsibility to love them, protect them, teach them and discipline them," she explains.
Listing bedtime as her favorite family activity, Kathy admits it's a "lengthy process," but it's also one she enjoys. First up is a bath for Chloe, and then the family — including Kathy's husband Dr. Greg Olson — moves on to brushing teeth and completing their evening chores. "I love telling stories to our kids," Kathy says. "My children's books all came from family bedtime stories."
"I read three books to Chloe, followed by a made-up story, a prayer, and a song. Then I read with Lily, our 10-year old…Lily plays guitar and sings some songs. Our oldest son, Erik, is 14. I spend some time with him, talking about our days and learning what is on his mind and in his heart."
Her willingness to take her time is as beneficial for Kathy as it is for the kids. She says that "their honest perspectives on life, their carefree joy, their quick wits, and their great senses of humor," are what make her laugh.
Source: Cookie
— Missy