Garcelle Beauvais-Nilon Enjoys Buying For Her Boys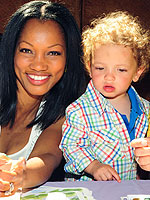 Albert Michael/Startraks
There is no doubt that Garcelle Beauvais-Nilon loves to shop, but when she became mother to 18-month-old fraternal twin boys Jax Joseph and Jaid Thomas, the thrill of buying for herself or wandering over to the baby section became a toss -up! "It's a tie," she tells PEOPLE at the Malibu Lumber Yard Opening.
While she loves to browse the racks for herself, Garcelle reveals that during a recent Target outing, a certain something caught her eye; With Mother's Day fast approaching, the 42-year-old actress decided to hold off on buying it. "You know I want that Snuggie, that blanket with arms," she laughs. "I saw it today at Target and I thought no, maybe I'll get it for Mother's Day."
With her two boys growing up quickly, the proud mama shares that Jax and Jaid have recently discovered the powerful word 'no' and have no qualms about using it throughout the day! "'Are you ready for bed?' 'No.' 'Do you want to eat?' 'No,'" says Garcelle. "So I'm tricking them and saying do you want ice-cream and they go, 'No,' and I'm like 'Oh you really want it…'"
Any similarities between the twins ends there, according to Garcelle!
"They are completely different. We actually came to Malibu to the beach yesterday and Jaid completely jumped in [and] thought he could swim and Jax was really timid and was tiptoeing around the seaweed. Just so different."
Jax and Jaid are Garcelle's twins with husband Mike Nilon.
Source: PEOPLE for use on CBB
— Anya with reporting by Michelle Ward