Brooke Mueller Sheen Says Seeing Sons Was 'Frightening'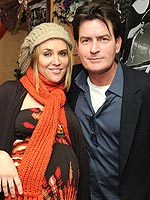 Sara Jaye Weiss/Startraks
Although well aware that carrying her fraternal twins any longer would have put Brooke Mueller Sheen "in serious jeopardy," — she battled preeclampsia, gestational diabetes, and cholestasis — there was no preparing the nervous mama and her husband Charlie Sheen for seeing their baby boys for the first time in the Neonatal Intensive Care Unit. "I went to the NICU to see [Bob and Max] and words can't express how amazing and shocking to see two human beings that came out of me," Brooke recalls.
"I was scared. Our babies had so many tubes on them, it was frightening."
Reiterating that Max's extended stay in the hospital was due to nothing other than low weight, Charlie explains that the circulating rumors of Max's alleged heart condition derived from his diagnosis of ejection fraction. "It's the volume at which the heart pumps and how much blood the heart can pump," he says. "There wasn't anything that any other premature child, especially a twin, doesn't normally go through."
With Bob and Max "gradually going toward normal" and the Mueller-Sheens settling down as a family of seven — including Charlie's three daughters — Brooke is beginning to wonder whether her sons inherited any of her traits at all. "They are complete Sheens," she says of her boys. "I'm like, 'Can I at least have an ear?!'" As baby Bob is a clone of his father — noted by everyone in the NICU who lovingly referred to the baby as Charlie — Max seems to be taking after his grandfather, Martin Sheen.
As for 5-year-old Sam and 3 ½-year-old Lola, the big sisters are simply in heaven with the newest additions! "I think they think they might be dolls," Brooke laughs. And while Charlie is happy to be a father for the fourth and fifth time around, he jokes that any maternal feelings stirring in his older daughter Cassandra Jade, 24, need to be ignored … for now!
"With her it's more like, 'Don't get any ideas!' At 43, I'm not ready for that label [of Grandpa]."
Source: Entertainment Tonight via OK!
— Anya