Grobag Sleep System: Taking The Guesswork Out Of Baby Bundling
The Grobag Sleep System helps parents keep babies comfortable in all climates.
Because it's been determined that room temperature is a very important factor in reducing the risk of Sudden Infant Death Syndrome, Grobag has three smart products that help parents keep the baby in the 61-67 degree safe zone.
Grobag Egg ($25) is a room thermometer and night light that changes colors according to the temperature. If it's too cool, the light is blue. Too warm or hot, orange or red. And if it's just right, Goldilocks, it stays yellow. The light is soft and won't keep Baby awake and there's no need to turn on a light to see the temperature when you're checking on the little one. We really like it a lot.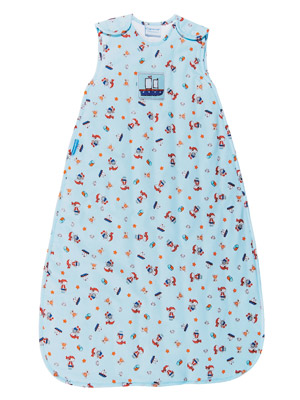 Grobag Baby Sleeping Bags ($35-90) are very scientific with a "tog rating" marked on each style. A tog is a European warmth rating. The bags are available in 3 togs: .5 for hot weather or warm nurseries, 1 for warm weather (69-73 degrees) and 2.5 for standard nursery temperatures of 61-69 degrees. Parents can use the enclosed room thermometer (just a little color-coded card) to tell which tog is required that night. The tog ratings correspond with the Grobag Egg's color, too. They come in many cute colors and sizes and in organic cotton fabric. They are quite roomy for enthusiastic foot kickers like my baby.
Grobag Swaddling Wraps ($22-35) are made from 100% stretchy cotton and come in many designs including organic cotton. Wrapping babies in a snug swaddle keeps them from waving their arms and startling themselves awake and it makes them feel so snug and cozy. They are recommended for babies from birth to 3 months old.
It can be baffling to figure out if a tiny baby is too hot, too cold or just cranky, so this terrific system is a great help.
— Kristen