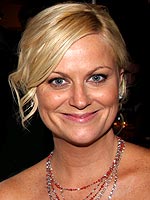 J.H.Saunders/Landov
During the 2008 Presidential Election, Amy Poehler — and her bump — played a starring role on a rejuvenated season of Saturday Night Live, but the 37-year-old actress says late night comedy and pregnancy are not a good mix. "It wasn't [easy], because when you're really that big and you're doing sketch comedy it's like wearing a sombrero in every scene," Amy said during a Thursday visit to The Today Show. "It's really hard to play different people."
Still, Amy — who delivered son Archibald 'Archie' William Emerson , 6-months on Saturday, just six days after performing her infamous Sarah Palin rap — counts herself "lucky" that she was able to work up until the end of her pregnancy. "It was such an exciting time to be on the show," she adds.
As for Archie, Amy revealed that he is an early riser — on that day, at least! "He's been up since 4 this morning, so he's raring to go," she explained before joking, "He had a little cup of baby coffee." His disposition makes the lack of sleep more bearable, however. Amy adds,
"He's great. He's amazing. He's the nicest person I've ever met."
Archie is the first child for Amy and her husband Will Arnett. Her new show Parks & Recreation airs Thursdays at 8:30 p.m. on NBC.
Source: The Today Show
– Missy