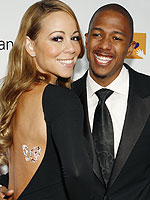 Isaac Brekken/AP
Ask Nick Cannon about his purchase of a new home with wife Mariah Carey and the newlyweds are willing to dish; However, pry into their family plans and the couple's lips are sealed. While Nick cleared up any rumors surrounding their new house — "it's not the billion-dollar one everyone thinks" — he chooses to stay mum on the topic of starting a family. "Everyone wants to know!" he laughs.
Instead, Nick's advice for their fans is to simply sit back and relax — nature will take its course! While the pair may be used to the tabloid attention, the 28-year-old feels the constant pregnancy speculation has simply gone too far. "Give my wife the respect she needs, the respect you'd give any woman," he pleads.
"You don't just go around saying, 'Yeah, she's pregnant.' How disrespectful is that?"
Nick and Mariah will celebrate their one-year wedding anniversary next week.
Source: NY Daily News
– Anya