Julie Chen Expecting First Child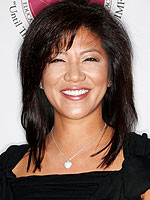 Frederick M. Brown/Getty
Each and every summer, fans of the CBS reality show Big Brother engage in rampant speculation about whether or not show host Julie Chen is pregnant. This year, there will be little room for doubt! The 39-year-old television personality — who also appears on The Early Show — is expecting her first child with CBS President and CEO Les Moonves, she confirmed this morning on-air.
Baby-on-the-way is due October 4th and will join Les' three adult children from a previous marriage — Adam, Michael and Sara.
"It wasn't a big Sunday at the buffet table," Julie joked. "I'm starting to show now! I'm not taking maternity leave from Big Brother. I e-mailed my boss over there this weekend and I said, 'Don't worry. I can still do the show!'"
Les, 60, and Julie were married in 2004.
Source: CBS News