Jennifer Garner, Matthew McConaughey Dream of Happy Surfers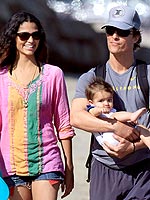 John Calabrese/Gaz Shirley/Pacific Coast News
Noting that he has a "great backyard" in the form of the Pacific Ocean, it's only a matter of time before little Levi Alves McConaughey, 9 months, is riding the waves alongside dad Matthew McConaughey. "I've already got him in the water, but not on a surfboard," the 39-year-old actor dishes to E! "It will kind of be up to him…I'm sure he's going to want to try it out, and if he likes it, it will be something great to do every day."
"We'll get him out there soon, floating around."
His Ghosts of Girlfriends Past co-star Jennifer Garner, on the other hand, has a more straightforward wish-list for daughters Violet Anne, 3, and Seraphina Rose, 3 months. "I just want them to be happy," the 37-year-old actress admits. "I don't care what they do…I really don't!"
During the film's shoot, Matthew's partner Camila Alves was pregnant with Levi and while Jennifer didn't offer up any specific parenting advice, she still left a lasting impression. "[Jennifer] was a pretty good example, that now I can speak to, just by watching her on set be a mother and a professional actress and a pro at both," Matthew tells Entertainment Tonight. Both appear to have been blessed by easy-going babies; Matthew is quick to point out that Levi has "been out of the country five times" already, as well as on a "a long road trip." Seraphina, meanwhile, is "really good," Jennifer raves; While husband Ben Affleck is officially outnumbered, he doesn't seem to mind. She adds:
"There's a lot of estrogen but so far he's handled it pretty well."
Ghosts of Girlfriends Past hits theaters May 1st.
Sources: E!, Entertainment Tonight
— Missy