Jennifer Garner Dishes on Sweet Sera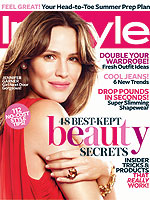 Courtesy InStyle
In the cover story for the May issue of InStyle, mom-of-two Jennifer Garner offers a glimpse at what life is like behind closed doors for her famous family of four; what she depicts is not at all unlike that which plays out daily for moms everywhere, however. The 37-year-old actress says it's the "morning combo" of nursing 3-month-old Seraphina Rose Elizabeth and readying 3-year-old Violet Anne for preschool which proves to be the biggest challenge. Husband Ben Affleck "will do the school run" and pitches in elsewhere as-needed, but his handiwork is easy to spot, Jennifer reveals!
"He dresses [Violet] and does her hair. It's pretty funny. You can always tell when he has been at it, just two random barrettes hanging in there. It's so sweet."
Nighttime can be just as hectic. "Violet wanted me to rock her," Jennifer explains of the evening before. "The baby was ready to nurse. Ben was doing something or other and trying to have a conversation with me in the middle of the night for some reason." Needless to say sleep has been hard to come by since Sera, as they call her, arrived but the couple are savoring every moment with their latest addition. Jennifer seems particularly smitten. "I'm so sure of her sweetness as a person," the Ghosts of Girlfriends Past star says. "We've only known her for a few months, but she's taught me that there's an innate goodness in people that's real, and it's there from birth." Violet has also had a profound impact on her mom; Jennifer credits her older daughter with teaching her "to slow down and appreciate things."
"Once, when she was 6-months-old, I was nursing her and kind of in a hurry. I was impatient, and she was really taking her time, just staring at the ceiling. So I looked up, and the way the light was playing on the ceiling was so beautiful. I wouldn't have noticed that on my own."
Click below to find out who Jennifer's celebrity mom role model is.
As it does whenever an only child becomes a big sibling, the dynamic in the house has been irrevocably changed. "At first, it's weird to give up that singular relationship with your firstborn," she admits. "You want to have that relationship with your second." Making the adjustment — something Jen refers to as "switching your mind over" — doesn't happen overnight, either.
"The other day Ben said 'she' about taking care of the kids, and I said, 'No, it's 'they.' We have two of them now.' It's a great thing that happens, the exponential growth between child and parents."
Fortunately, Violet has enjoyed an "amazing" transition to her new role and even played a part in selecting her sister's name. Jennifer and Ben hadn't decided on a moniker when she entered the hospital to deliver, but Violet had already voiced her approval of the name 'Sarah.' "When the baby was born, she was so angelic," Jennifer recalls. "Seraphina means angel, and it exists in several languages. It's Hebrew, but it's found in many cultures — which we liked." Even though the girls peacefully co-exist, Jennifer says she still struggles to reconcile the demands of a newborn with the demands of a toddler.
"[Violet] has the normal 3-year-old meltdowns. When you're breastfeeding one and the other is crying, you think, 'Huh…I don't know what to do.'"
With two bonafide superstars for parents, Violet and Sera are no strangers to the prying eyes of the paparazzi. "I try not to look, but when I see these pictures of Violet and me, I'm always smiling like a monkey, trying not to let her feel my anxiety," Jennifer explains. Now that Violet is of an age to see past that façade, she's "more able to articulate that she doesn't like it" — but her protestations often fall on deaf ears.
"She'll say to them, 'Please stop flashing your camera in my face,' but they won't stop. Then she'll say, 'I don't understand, Mommy. I said please!' It's just twisted."
Jennifer says that good friend Reese Witherspoon — Academy Award-winning actress and mom to Ava Elizabeth, 9 ½, and Deacon Reese, 5 ½ — is her role model when it comes to juggling career and family. "I feel like she does a really good job," Jennifer says. When she's not working, Jennifer stays completely focused on Ben and their girls. "I growl at anyone who wants me to do something while I'm with my kids," she admits. "I say, 'No I'm at home, back off!'" Once she is on set, however, Jennifer snaps into "work mode" — and Ben takes over at home. "We've tried really hard to switch off," she explains.
"So far it's working. I've chosen jobs that weren't as demanding as some can be."
One thing Jennifer says she won't demand of herself is an unnatural, accelerated return to her pre-baby size. Six weeks after Sera's birth, she needed to undergo a fitting for re-shoots of the film This Side of the Truth. The costumers who visited her home "were just tripping over baby stuff left and right," Jennifer recalls. "There wasn't a square foot of floor that didn't have baby gear on it." They had their work cut out for them in more ways than one! Jennifer weighed 20 pounds more than she did when the film — due out in September — was originally shot, but if she was nervous about the baby weight issue, she isn't showing it.
"It is what it is. I would think I looked appropriate for someone who had a baby six weeks before. What am I going to do, not eat?"
Ghosts of Girlfriends Past — co-starring Matthew McConaughey — hits theaters May 1st.
Source: InStyle; May issue
— Missy