Tim Allen Opens Up About Daughter's 'Marvelous' Birth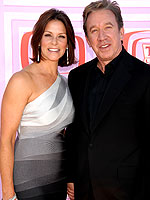 Vince Flores/Celebrity Photo
Although he joked previously that "the older you get, the less you know," fatherhood the second time around is "even better" for Tim Allen. The 55-year-old actor — who together with wife Jane Hajduk Allen recently welcomed daughter Elizabeth, 3-weeks — tells PEOPLE that unlike with daughter Katherine, 19, new dad jitters haven't been an issue.
"I'm not so worried as I was the first time," he reveals. Elizabeth's birth was a "marvelous experience" that Tim won't soon forget; He thanked the staff at Cedars-Sinai Medical Center in Los Angeles for encouraging his involvement throughout the labor and delivery.
"She did all the work but she allowed me to be there, and I was able to physically help her on the back side of it. And her sister was there and a couple of her friends… I was the first one that got to look at [Elizabeth]."
Jane, 42, has been doing a "great job" with the baby at night so Tim can maintain his busy schedule during the day. "She's up and down with [Elizabeth]," he explains. "I wake up when she wakes up, but I have got to give it all to Jane."
His wife also earns high marks for her speedy return to pre-baby form, which was on full display as the couple walked the red carpet at Sunday's 7th Annual TV Land Awards. Jane reveals that she lost 20 of the 28 pounds she gained while pregnant almost immediately after giving birth, and she credits exercise and a lack of cravings for keeping her weight gain in check.
"I didn't feel like I needed to eat more, so I did that plus I worked out and I swam — and the man upstairs, I don't know, gave me something…but, really, if I had had cravings I would have been eating. I knew I didn't want to work so hard when she was born, so I thought, 'Let's just take it easy, let's do this right.'"
The best part of motherhood thus far, Jane says, is coming to the realization that things will never be quite the same. "Not that we didn't have an incredible life, but there's more and our love is going to change, and now we have somebody else to love," she explains. "Like every woman has ever said, you can't believe how much you love this little infant." The experience is so surreal, she adds, the couple often find themselves asking, "Do you believe we have a baby?"
Katharine is Tim's daughter from a prior marriage to Laura Deibel.
Source: PEOPLE
— Missy with reporting by Jed Dreben