The Maguires Stroll Hand in Hand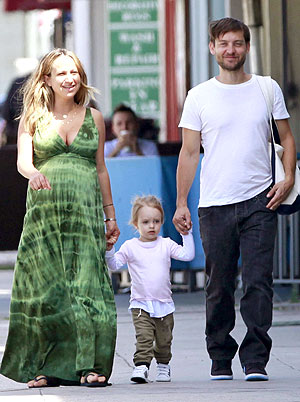 Anthony/Pacific Coast News
With the new addition to their family due any day now, Tobey Maguire and wife Jennifer enjoy one of their last weekends as a trio, strolling hand in hand with 2-year-old daughter Ruby Sweetheart after lunch on Sunday.
Joining them for the meal at Real Food Daily was Tobey's pal, actor Lukas Haas (not pictured).
See Jennifer, a jewelry designer, and other expectant mamas in our Who's Due Next gallery — we just updated it, so check it out!
Ruby wears C&C California's Short Sleeve Tee in Scammer ($28; use code CBB15 for 15% off through Thursday). Jennifer wears Gypsy05's Tie-Dye Organic Maxi Dress in Forest ($132).