Pittsburgh Penguin Chris Kunitz Welcomes a Son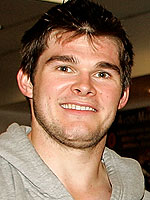 Debora Robinson/NHLI/Getty
Wednesday was a day to remember for Pittsburgh Penguin Chris Kunitz. Not only did his team jump out to a 1-0 lead in their NHL quarterfinal series with the Philadelphia Flyers, the 29-year-old left winger welcomed his first child. Zachary James Kunitz was born at 9:41 a.m., leaving Chris' status for that night's game in doubt.
"Leading up to it, I wasn't sure [if I would play]. I just waited to see how my wife felt and to talk it over, make sure the baby was okay and all that kind of stuff."
Fortunately, it didn't take long to make up his mind! "We had called the team to let them know we had a baby, and I told them I'd call them back," Chris explained; By noon, he revealed that he would indeed take the ice.
Zachary is also the first child for Chris' wife Maureen, whom he married in July 2008.
Source: Pittsburgh Live
— Missy