Jo Dee Messina Introduces Noah Roger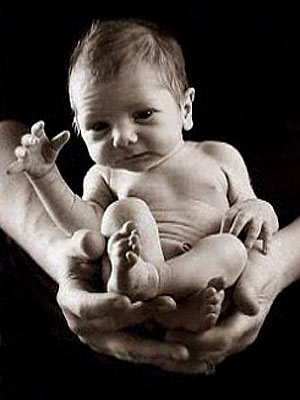 Today Show screencap for use on CBB
Taking the opportunity to introduce her 3-month-old son during a recent appearance on the Today show, country crooner Jo Dee Messina beamed with pride as her son's photo (at left) was shown on screen before the camera panned over to Noah Roger, who was perfectly content drinking his bottle while cradled in his dad's arms.
With the proud mama already declaring her baby boy "a flirt," a giddy Jo Dee joked with co-hosts Kathie Lee Gifford and Hoda Kotb.
After meeting little Noah before the show, Kathie referenced the initial introduction, sharing that she and Hoda had seen him "down below" before quickly clarifying that she meant in the studio downstairs. "We keep him in the basement," laughed Jo Dee.
Admitting that she has yet to adjust to the lack of sleep since the birth of her first child, the 38-year-old looks forward to a future that includes a full-night's rest. "He's still not sleeping through the night," she shares, before Kathie interjects with a forewarning that the late nights could carry her well into the toddler years!
Clearly elated with having embarked on the journey of parenthood, Jo Dee and her doting husband Chris Deffenbaugh are hopeful that their son lives up to his biblical name.
"Here's a man who everyone thought was crazy and everybody was telling him stop doing what you're doing, and he followed his faith and stuck to what he believed in. I love that character within a man and I hope my son has that same character."
Source: Today
— Anya