Gavin Rossdale: My Family Makes 'Good Airport Reading'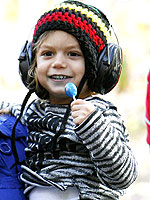 PhamousFotos/Splash News Online
All in a day's work! Or at least according to Gavin Rossdale, who — despite being faced with a constant paparazzi following — refuses to "modify our lives to avoid" photographers. While the father of two tells CANOE that he doesn't allow the photographers to dictate his daily plans, he is always prepared for a photo frenzy. "You have to make this conscious thing of, well, 'I'm going to go to the park where there'll be seven grown men with cameras following,'" he says, noting that "it's kind of creepy."
Always up for a solution to any problem, Gavin and his wife Gwen Stefani have come to the realization that, in this case, allowing their children to have a play date in the park far outweighs the flip-side!
"We could build a fake park at our house and have extras or something as people — or just get on with it. The combination of me and Gwen and the kids makes such good airport reading. I like it best when you go see a psychiatrist and they have those gossip magazines in there — so I've heard."
Although the constant paparazzi may be far from ideal, Gavin admits that there is at least one big fan of the photographs — his mother! Referring to a recent shot of Kingston James McGregor, 2 ½, belting it out on the microphone at one of his dad's concerts, the doting grandmother was all too thrilled to catch a photo of the family. "My mom's like, 'Did you see that picture? That was the best picture!' I was like, 'Yeah, it's a paparazzi picture,'" he recalls. "And she says, 'Yeah, but if we didn't have that, we wouldn't see what you're doing.'"
While the couple have learned to accept that the paparazzi comes along with the job, Gavin and Gwen refuse to give in when it comes to raising well-grounded little boys. "We don't have screamers," the proud papa reveals. "We don't allow them to scream. If they scream, we turn the music up." Unfortunately, Gavin is quick to share that their technique isn't always a success!
Gavin and Gwen are also parents to 8-month-old Zuma Nesta Rock.
Source: CANOE
— Anya