Brad and Kimberly Name Son Jasper Warren Paisley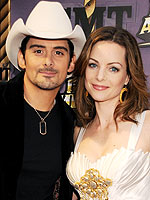 Jeff Kravitz/FilmMagic
Update: Brad and Kimberly have chosen the name Jasper Warren Paisley for their new baby boy, who weighed in at 9 lbs., 10 oz at birth — he was 12 days late!
Warren is after Brad's grandfather, who gave him his first guitar and encouraged him to pursue a music career.
Originally posted April 17th: It's another boy for country singer Brad Paisley and his wife, actress Kimberly Williams-Paisley! The couple welcomed a second son this morning, Friday, April 17th, in Nashville, Tenn. A name and further details were not released.
Brad and Kimberly, 37, announced their pregnancy in October, saying they were "thrilled" to be giving 2-year-old son William 'Huck' Huckleberry a sibling. In fact, it was Huck who broke the big news to dad, delivering Kimberly's positive pregnancy test to Brad! "I said, 'No, you don't get it. This is really bad for you and I. This isn't gonna be fun for us for the next nine months. We're in for it,'" the singer joked upon learning about baby number two.
The baby boy had been set to arrive on April 5th, but being overdue "wasn't a big deal," said Brad, 36. "There's nothing we can do about it. Well, there is, but we're not doing that. We're actually probably going to miss these times when things are simple. I mean you can't put them back!"
Source: PEOPLE