Diana Krall Loves Her 'Zany' Household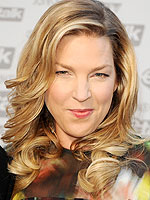 George Pimentel/WireImage
A child has a way of making any household lively and for singers Diana Krall and Elvis Costello twins means twice the fun. The pair are parents to 2-year-old sons Dexter Henry Lorcan and Frank Harlan James and Diana claims that their household is "zany in the most wonderful way." No matter what is going on a certain day, the family has a happy home.
"You have two little boys leaping off the furniture who think they're Buzz Lightyear while we're practicing and playing. It's just a happy house."
That happy house — and Diana's personal growth over the past two years — were the writing force behind her new album Quiet Nights. "I think [this album reflects my present] state of mind. It's not about loss, it's not preparing for loss. I'm not peeling grapes," says Diana, 44. Instead, "life has changed a lot and it's not just about performing and touring. It's motherhood and having a home for the first time, because I've always been on the road. So it's an incredible thing to be making Mickey Mouse pancakes in the morning while you're doing your interviews."
Diana and Elvis, 54, who married in 2003. Quiet Nights is available now.
Source: CNN
–Angela