Alison Sweeney on Ben and Megan's Budding Relationship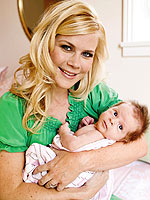 Alison Dyer for PEOPLE for use on CBB
Alison Sweeney may be a "total workaholic," but the actress has enjoyed every minute of her recent vacation from Days of Our Lives for one reason — she got to spend more time with her kids,  Benjamin Edward, 4 and Megan Hope, 3 months. "Being with Ben and Megan has been so great," blogs Ali, 32. During her time with the kids, she is getting to watch their brother/sister relationship build with each little moment that takes place.
"I was making dinner the other night and I heard her cry out from the other room. But as I was grabbing a towel to dry my hands, she stopped crying … I went in to see what happened, and Ben had given her her pacifier. He was saying, 'It's okay, Megan, I'm here. I'm here Megan' in this adorable high-pitched voice. It was so cute."
The Biggest Loser host is married to Dave Sanov, a California highway patrolman.
Source: Alison's Blog @ NBC
–Angela