Seal and Leni: Funny Business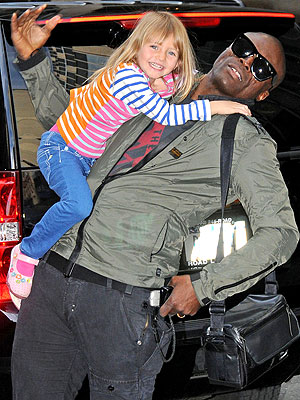 Gardiner Anderson/Carlos Vila/ Bauer-Griffin
Whoa there! Singer Seal jokes around with daughter Leni as the pair arrive at Radio City Music Hall on Thursday afternoon. Seal was performing a concert there that evening, where he confirmed what sources had been saying — baby #4 is on the way!
"[The] topic of debate outside our hotel is, 'Is Heidi [Klum] having another baby?'" he told the audience. "Heidi and I are having another baby!"
Although Heidi and the kids — Leni, 5 next month, Henry Günther, 3 ½, and Johan Riley, 2 — all attended the show, the model was the only one to hear the announcement — when Seal pointed them out in the crowd, Heidi stood up, cheered and motioned that the kids were sleeping!