Cheryl Hines: The Family That Works Together, Stays Together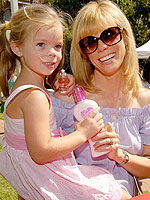 Mark Sullivan/WireImage
Spouses working together can sometimes cause a tense situation for couples, but that's not the case for actress Cheryl Hines and her manager husband, Paul Young. The pair, who have been married for six years, usually see eye to eye when it comes to their work, home life and raising daughter Catherine Rose, 5. "It seems to work for us because we're really on the same page and have a very good shorthand with each other," shares Cheryl, 43.
The In the Motherhood star also feels lucky "that my daughter is very well adjusted and seems to understand that I like to go to work. She comes to the set and hangs out in my trailer, and she likes being a part of it."
"You're fortunate as an actress, and it's not always the best idea to bring your daughter to your trailer because if you're working out something sometimes you need that 20 minutes to clear your head. But I would rather spend that 20 minutes with her."
In the Motherhood airs Thursdays on ABC.
Source: Miami Herald
–Angela