Suri Cruise Celebrates Birthday No. 3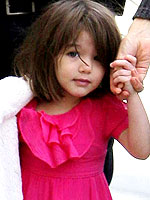 Most Wanted
Suri Cruise celebrated her third birthday with a small gathering of friends and family at home in Los Angeles Thursday afternoon, PEOPLE has learned.
Parents Tom Cruise and Katie Holmes planned a princess-themed party for their daughter, which included a cake featuring Belle from Beauty and the Beast and a treasure hunt.
"They just wanted to keep it small and make it fun for Suri and her friends," says a source. Suri's actual birthday is Saturday.
Source: PEOPLE
– Julie Jordan