Russell Crowe's Solution to Separation? Skype!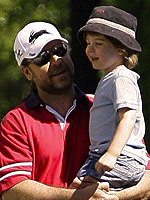 Most Wanted/Flynet
Not always known for his gentle ways, Russell Crowe's outlook on life took a quick turn for the better after becoming a father. The timing, he tells PARADE, couldn't have been more perfect. "It was the right time for me to become a dad, I needed it," he says.
Once confronting each situation without a second thought, the actor reveals that the journey of fatherhood has since allowed for "a higher level of perception," placing him at a new found advantage in life. "I'm two or three steps back from where I used to be," he admits, adding that he considers himself "blessed" with a wonderful family.
A successful actor who is able to easily support his brood, Russell explains that the lines drawn by society between a dedicated dad and the family provider have become murky. "In this modern world, we expect so much from a father, yet the definition is still somebody who works all week to put the food on the table," he notes. "Somehow you have to do all that, bring home the money, and still make yourself available to your kids."
Understanding the "responsibility … to be a parent," Russell shares he has found a balance between a demanding movie career and his obligations to his two boys. His temporary solution? Skype! With a camera that allows him a peek into the family home, the proud papa jokes that "every now and then I can sort of just burst into the playroom," much to the delight of both father and sons.
"When they seem happy to see me, even if I'm thousands of miles away, it's pretty special."
Russell and his wife Danielle Spencer are parents to Charles 'Charlie' Spencer, 5, and Tennyson Spencer, 2 ½.
Source: PARADE