Ramona Sarsgaard: Future Soccer Player?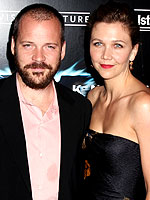 Janet Mayer/Splash News Online
Believe it or not, acting was not Peter Sarsgaard's first career choice! He actually wanted to be a professional soccer player but "sustained a number of injuries" in the sport. "I had gotten a couple of concussions," he explains, "and I kind of dropped out from playing."

However, he continues to make the game a priority in life and is grooming his little girl to follow in his footsteps! Peter, 38, plans on teaching his and actress Maggie Gyllenhaal's 2 ½-year-old daughter Ramona all about the sport.
"Every child that I have must play soccer. I'm one of those people who's constantly chipping the ball over the kitchen island trying to land it into a basket of Ramona's toys — taking out wine glasses and things."
Ramona is the first child for Peter and Maggie, 31.
Source: Daily Breeze
–Angela