Andie MacDowell Tells Kids to 'Take Their Time' With Love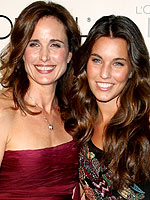 Bryan Bedder/Getty
When it comes to romance, Andie MacDowell tells OK! she's hoping that her three children — Justin, 23, Rainey, 20 and Sarah Margaret, 14 — will someday blaze a different trail than their mom. "My biggest love advice to them is to do as I say and not as I've done," she admits. "And really take their time getting to know someone." It seems as though the kids are often more in tune with what Andie needs than Andie, herself!
"I usually ask them what they think [of a date], and they're usually right. I think if I were to ask my kids every time what their opinion was, I would be better off."
The 50-year-old Four Weddings and a Funeral star adds that as her children are growing up and going in different directions, her relationship with them has changed. "Having a 20-year-old that lives in New York, I have to have a lot of trust and faith and acknowledge her independence," she explains. "It's sort of like that balancing of giving someone structure and knowing when to give them freedom."
Justin, Rainey and Sarah Margaret are Andie's children with ex-husband Paul Qualley.
Source: OK!
— Missy