Tori Spelling Dishes on Belly Flab, and More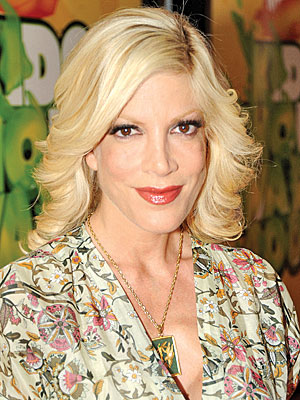 Jeff Kravitz/FilmMagic
It's the moment every new mom dreads. A few weeks or months postpartum, and a stranger offers up congratulations for a baby-on-the-way who has already arrived! Although she swiftly returned to pre-baby form after welcoming son Liam Aaron, 2, and daughter Stella Doreen, 10-months, Tori Spelling says that even she has fallen victim to this nightmarish scenario.
"It just happens. It's always when you think that you've lost a little of the baby weight that someone steps in grabs a handful of a now sans baby soft belly and asks the inevitable 'When are you due?' It happened to me quite a bit after both babies."
In a revealing new interview with Mommy Track'd, the 35-year-old 90210 star makes it abundantly clear that there's little she isn't willing to discuss when it comes to motherhood. Before welcoming Liam in 2007, Tori admitted she was "paranoid" about having a bowel movement during a vaginal delivery; The issue was mooted when she needed a c-section but she says she wouldn't have hidden anything from husband Dean McDermott had things turned out differently. "Luckily Dean and I share everything, so YES…I would have asked him to check to see if I had done the deed!" Speaking of the latter, there's been plenty to go 'round since Stella arrived on the scene! "Having two babies so young…[it] is a lot of work," she notes, adding:
"Its a lot of POOP! But its so rewarding to see them begin to interact and start to play together. I'm lucky that I have such a hands on husband. Dean is amazing! Patsy our baby nurse is still with us and will be with us till June. Its a lot more gear with two [kids] and we eat a lot more meals in but we love every moment of it."
Click below to read about Tori's "very pleasant" surprise.
Stella was "a very pleasant surprise" for the couple, who always planned on having more children. "We just figured the time was right 'cause fate stepped in and brought us Stella," Tori says. Although she was at ease with the notion having two children under two, two pregnancies back-to-back put Tori — a self-described "bundle of nerves riddled with irrational fears — to the test.
"With my 2nd pregnancy I had most of the same fears with a slew of fun new ones added to the mix. Thank goodness I'm friends with my OB/GYN Dr. Jason Rothbart 'cause he kept me sane. I must have texted him a million times during both pregnancies."
Between 90210, the new season of Tori & Dean: Home Sweet Hollywood, the release of her book Mommywood and a children's clothing line in the works, free time is in short supply for Tori. When she is able to carve out the "rare no work moment" she says she prefers a quiet night at home over a night out on the town. "We like to cook, and watch movies together (in fact I think to date I've seen the animated feature CARS 22 times), go biking together, on walks, go to the park, and just BE," she says. With so many irons in the fire, Tori shows no signs of slowing down. She adds,
"Sometimes I do envision just being a stay at home mom but not working isn't an option for me currently. I need to work to support my family."
Source: Mommy Track'd
— Missy