Nas Needs Help Choosing Son's Name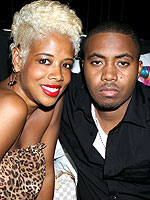 Dave Allocca/Startraks
As Nas' wife, R&B singer Kelis, gets closer and closer to delivering the couple's first child together, the rapper admits to having a hard time deciding on a name for their little one, a baby boy. "Yeah, [we are deciding between] a few baby names," Nas said. "It's kinda hard." So hard, in fact, that the 35-year-old is considering letting his fans decide.
"I've been thinking about kinda putting something online: 'Choose his name.' You get a couple stacks for that. We take care of you for that. You win something real. But we're thinking now."
Kelis, who is due this summer, is "great, man. She's doing good."
Nas and Kelis were married in 2005. This will be the second child for Nas, who has a 15-year-old daughter, Destiny, from a previous relationship.
Source: MTV
–Angela