Nancy O'Dell Says Ashby is Motivated by Chocolate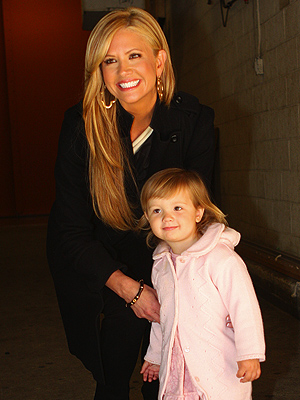 Richie Buxo/Splash News Online
Spending Easter in a New York City hotel room with a small child is not for the faint of heart! "It's a little hard to find places to hide the eggs," Nancy O'Dell lamented during a Monday visit to Live with Regis and Kelly.
Fortunately her daughter Ashby Grace, 22-months, didn't seem to mind — so long as the eggs contained a certain treat! While baby girl doesn't understand the origins of Easter, "she totally understands the concept of chocolate," Nancy said.
"We kind of use that as a bribing mechanism. 'If you do this, chocolate will come.' I don't know what we're setting her up for later in life."
Along for the trip was Carson, Nancy's 9-year-old stepson with husband Keith Zubchevich. Carson's 13-year-old brother Tyler stayed behind in California, having recently returned from a school trip to Costa Rica. Nancy beamed with pride while showing off a picture of her family of five; When host Kelly Ripa commented on their collective good lucks, Nancy concurred, but admitted that she might be "a little biased."
The appearance was in promotion of her new book Full of Life Mom-to-Mom Tips I Wish Someone Had Told Me When I Was Pregnant, a collection of advice and anecdotes for expectant moms. There was no shortage of material for Nancy, 43, to work with; "Literally, when I was writing the book, the publisher was like 'Okay, you don't need to write this much,'" she recalled.
Revealing that "so many things" caught her off-guard while pregnant with Ashby, Nancy says that women often feel frightened, or embarrassed, (or both!) — and are left wondering "what is going on with my body?" One of those moments for Nancy took place as she prepared for work one day at Access Hollywood. She recalls,
"Nobody told me that head lights were a sign of pregnancy. So I'm standing in the shower at like six in the morning, and I'm like, 'I can't possibly be aroused at 6 in the morning, what is going on?'…There I go to the set of Grey's Anatomy, looking just way too excited to see McDreamy and McSteamy. If my friends could have just warned me I could have worn a thicker bra."
And — by her own account — a bigger one! Complaining that nobody told her "how quickly things get large," Nancy said her breasts became "borderline pornographic." So much so, they were ultimately to blame for her pregnancy becoming public, after her Access Hollywood co-host Billy Bush zeroed in on the evidence! "He said, 'Okay, so either you had an upgrade overnight, or you're pregnant,'" Nancy recalled with a laugh.
Source: Live with Regis and Kelly
— Missy