Heidi Klum & Seal Expecting Fourth Child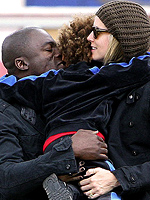 WENN
Supermodel Heidi Klum is pregnant with her fourth child, Seal confirmed at his concert this evening. "[The] topic of debate outside our hotel is, 'Is Heidi having another baby?'" he told the audience. "Heidi and I are having another baby!" The Project Runway host and her singer husband expect their new arrival in the fall.
The baby will join siblings Leni, 5 next month, Henry Günther, 3 ½, and Johan Riley, 2.
This latest addition to the family shouldn't come as too much of a surprise. Last year, Heidi herself hinted that she might still want more kids. "So many people say, 'I am so done.' That hasn't come out of my mouth, and it hasn't come out of Seal's mouth either," she told Redbook magazine in July. "I feel like we still have one coming."
The news was first reported by In Touch Weekly, with E!'s Mark Malkin confirming with his sources last evening.