Sean Astin Says Daughters Crave Spotlight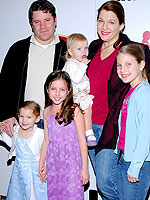 Michael Tullberg/Getty I
While he at first wasn't entirely comfortable with the notion of his three children pursuing careers in entertainment, Sean Astin admits his stance has softened. Daughter Alexandra, 12, dabbled in community theater before making her big screen debut in Lord of the Rings: The Return of the King, and now Sean says his middle daughter — 6 ½-year-old Elizabeth — has gotten the acting bug as well. He tells Time Out New York Kids,
"Elizabeth just figured out what I do for a living. I was maybe three years older than she is when I figured out what my parents did. Right now she's on a I-want-to-make-movies kick, which I think is hilarious, and if I can help her I will. We'll just see how everything goes as they get older."
The 38-year-old actor and his wife Christine acquired the rights to the Newbery Medal-winning book Number The Stars; While they at first envisioned the project as one which would include the kids, they've aged beyond the characters they would have depicted. Nonetheless, Sean says they're moving forward with their screenplay adaptation. "I figure it's easier to raise money for family films," he observes. "Obviously, being a family guy, it sort of fits with my values, my worldview and so forth." That's also one of the reasons Sean signed on to the Disney Channel's new animated series Special Agent Oso, for which he voices the title character — leading to some interesting feedback from his youngest daughter, 3 ½-year-old Isabella.
"I said, 'That's Daddy,' and she looked at the screen then looked back at me like I was as dumb as a box of rocks and said, 'That's Oso, not Daddy.'"
When the family is in New York, Sean says they enjoy skating in Central Park and visiting the American Museum of Natural History. He also loves taking the kids to musicals, noting that his mom — famed actress Patty Duke — is currently starring in Wicked, in San Francisco. "We saw it twice in New York, once in London and once in L.A," he explains. "I think I get 'good daddy' points for facilitating all that." Speaking of Patty, her well documented struggle with bi-polar disorder continues to have an impact on Sean, who notes that the condition is hereditary in nature. "So definitely, I watch myself and I watch my girls," he says.
"It's not an exact science, figuring out what's a personality trait and what may be a chemical imbalance. As parents, we worry about everything — their spiritual, mental and physical growth, their development. We worry every single second."
Source: Time Out New York Kids