Rain Pryor Opens Up About Fertility Issues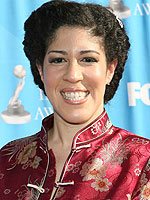 Maury Phillips/WireImage
Actress Rain Pryor and her partner Yale's 1-year-old daughter Lotus Marie "lights up our world and challenges it all the time" and they consider her "a gift and miracle" — for good reason! The couple went through months of trying and suffered numerous miscarriages prior to conceiving Lotus. "I felt too old, like my time had passed me by, like I had spent my life chasing after relationships I tried to make work, or dreams of happily ever after that had no basis in reality," says the 39-year-old comedienne. "Yale and I had been trying to conceive for months. We had three, I repeat three miscarriages and I was devastated … Yale appeared to take the whole thing in great stride," shares Rain, but "I was a total mess."
Prior to her last loss, Rain was in London for a show during the summer. "There [Yale and I] were on tour and I found out we were pregnant. We were overjoyed and scared." Unfortunately, Rain again miscarried, this time at eight weeks and overseas. Undergoing a dilation and curettage (D&C) procedure because her body was unable to pass the blighted ovum, Rain remembers the experience as "terrible. I cried and cried thinking all hope now was lost." Although her doctor was "brilliant" and reassured her, during the D&C they discovered that the actress had five fibroids and endometriosis. "'OMG! WTF?' were my thoughts," she recalls, and a week later Rain underwent surgery to have them removed. Throughout her experiences, Rain — like Nancy O'Dell — has learned about the secret society of moms who have lost babies.
"Having a miscarriage is the one thing I've noticed no one wants to talk about. If they do it's in private, like to say it aloud to more than one person would put you on some government list as a babymaking outcast. In reality, miscarriages are common and eventually one is able to conceive or venture off into other methods if that's what the universe has in store."
For Rain and Yale, the next step for them was born of advice from her ob/gyn in the UK. "The doctor said, 'Well you two love birds should keep going at it. You are clear and fertile.' So, like bunnies and cliché wannabe parents we went at it," laughs Rain. "I had the ovulation kit, the right positions, the meditations, prayers from Thai and Tibetan monks and African priestesses."
The couple were excited as well as terrified when they learned that they had conceived again. "For three months I was a nervous wreck. Home in the US and hooked up with an amazing ob/gyn, I was watching everything I did … Don't exercise too hard or too much … No sushi … Lots of water … isn't it enough that I'm peeing like a racehorse without it?" After Rain reached her twelfth week of pregnancy without incident, she was thrilled and Yale was "full of pride and didn't stop smiling." "Okay truth be told, we did the happy dance. You know the one where you look so goofy you hope the neighbors don't see?," Rain jokes. "That was the beginning of the most amazing wonder of pregnancy."
Lotus Marie arrived on April 1st, 2008.
Source: Pryor Parenthood
–Angela