Matthew Broderick on James' School Picture Snafu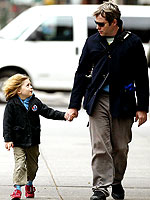 Santiago Baez/RAMEY
One little boy is missing from a New York City school's class picture taken yesterday; James Wilkie will not be included in the group shot as the 6-year-old was still fast asleep in bed after a late night out!
In an appearance on the Today show, a tired looking Matthew Broderick admits that all did not go as planned after taking his son to the New York Mets' opening game. "He had been told that he could stay up as late as he wants and miss school — bad parents that we are," jokes Matthew.
Unfortunately, the 47-year-old father forgot Tuesday was school picture day for James. "Today is class photo day so he did have to go to school," he says. Or so he thought!
"So both of us had to wake up this morning. So, I set the alarm, we woke up, and went straight back to sleep! But we had such a good time."
James is Matthew's son with his wife, actress Sarah Jessica Parker.
Source: Today
— Anya