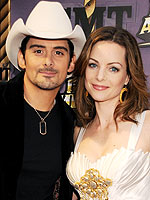 Jeff Kravitz/FilmMagic
Brad Paisley and his wife, Kimberly Williams-Paisley, may be taking their wait for overdue baby No. 2 in stride, but there's one Paisley whose patience is wearing thin.
"I think maybe Huck's not buying it anymore," Brad jokes of the couple's 2-year-old son. "We keep saying, 'You're going to be a big brother,' and I sense he's like, 'Yeah, right! They're full of crap!' "
The newest Paisley was due Sunday, April 5th – the night of the Academy of Country Music Awards, when Brad won the top male vocalist honor for the third time. But the delay "is not a big deal," says the "Waitin' on a Woman" singer. "There's nothing we can do about it. Well, there is, but we're not doing that. We're actually probably going to miss these times when things are simple. I mean you can't put them back!"
Baby watch prevented Brad, 36, from attending last week's ACM show in Las Vegas, but he managed to bring the party to his home in Franklin, Tenn.
"We ended up having the best time," he says. "Everybody was in town because we expected to have a baby already, so we took a satellite truck out to our farmhouse and had a party. We had about 35 people there. My band was there and my whole family and all the in-laws."
Source: PEOPLE
– Eileen Finan