Dierks Bentley Learning to Raise a Daughter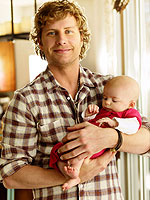 Brian Doben for PEOPLE for use on CBB
Dierks Bentley loves to write songs — and that is a huge benefit for his 6-month-old daughter Evalyn 'Evie' Day, as she is lucky enough to get her own, personal songs from dad. Dierks' latest song for Evie is entitled "Wubba Nub Girl" and goes,
"Just a little red dog, with a green thing on the end, but I tell you my WubbaNub is my best friend. There every morning, when the sun goes down, when I'm lookin' for a hug when no one can be found … My Wubba Nub … and it's him I love … Never get enough … no, no … can't get enough … of my WubbaNub."
While Evie loves songs for her, she is not a fan of the songs her dad writes for others! When Dierks sang his hit 'Here Today, Gone Tomorrow' to his daughter, there was "no response," so he tried 'This Beautiful World' next, which lead Evie to promptly spit up! "That counts … spit up's good! Throw up or spit up … either one's fine. It's a response."
All joking aside, Dierks doesn't care if Evie likes his music or not, he just wants "her as a person to just be simple and natural and unassuming. And be able to really just have an open mind to everything. See things for what they truly are and not for what your mind perceives them to be." He knows for that to happen he has to "be a good influence as a human being. As she comes up and learns and sees things and starts to form an opinion of them, I'll try to be there to help encourage her to be open-minded to everything around her."
Click below to read about what advice Dierks has gotten from his mom, and how raising a daughter is different than a son.
The singer looks back at the advice his mother gave him — and to Joseph Campbell's book Follow Your Bliss — to help him with raising Evie. "Really just try to follow your heart. And don't let your mind get in the way. It's not just about chasing dreams or becoming somebody. It's about always evolving — not just as a human — and trying to accomplish goals, but as a being," notes Dierks.
"You know, just listening to your inner self and trying to find what makes you happy. No matter what it is. Just be a source of positive light for all those around you."
Dierks feels that he is at a disadvantage with helping Evie grow. "If we'd had a boy, I'd have all sorts of easy advice. 'I'm gonna raise him to play hockey, he's gonna drive trucks, he's gonna listen to country music!'" But with "a girl, it's like, man, you just really need to sit back and let them evolve in front of you. Because, certainly for me, I don't know … and I'm glad, too. 'Cause I don't want to steer her in any certain direction." The 33-year-old "want[s] her to become the person she wants to become and be there along the way to push her, prod her, guide her."
"If it's a guy raising a guy … it's, 'Oh yeah. I know exactly how to raise a little dude!' With a girl it's like, whoa … you just start looking at everything differently. I've just got to be there to allow her to blossom into the girl she wants to be."
Evie, whose nickname rhymes with Chevy, is the first child for Dierks and his wife Cassidy.
Source: Country Weekly
– Angela