Amy Poehler Happy to Be a 'Regular Mom'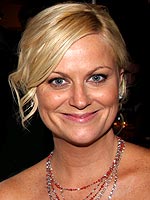 J.H.Saunders/Landov
If there's one thing that Amy Poehler doesn't want to be, it's a cool mama! She would rather be known as the "regular mom" to 5-month-old son Archibald 'Archie' William Emerson. "The cool mom thing can really backfire. I'm out working in Los Angeles right now, and it's filled with cool moms with tight figures in jumpsuits, but when they turn around they have the face of a 70-year-old. It's very disconcerting," says Amy. While she knows that she is "probably jinxing myself," she envisions Archie and any siblings who may come as having "nice manners and a lot of boundaries."
"My hope for my children is that they're happy, and my hope for myself is that people want to be around my children."
In a new interview with The Advocate, the former Saturday Night Live star was asked if she'd like a gay son, to which Amy replied that "they're so good to their mothers, and they usually keep a clean apartment. Sure, we'd probably have a grand ol' time." Not too long ago, Amy and a few of her friends "went to see Liza Minnelli's show at the Palace in New York" and afterward the group were able to meet her.
"I told my friend, who was pregnant at the time, that Liza had to bless her baby so that it would either be gay or be a big supporter of the gays for the rest of his or her life. So Liza laid her hands on my friend's stomach and sang the first couple of lines from Cabaret — "What good is sitting alone in your womb? Come hear the music play!" I was thrilled."
Archie is the first child for Amy and her husband Will Arnett; Her new show Parks and Recreation premieres tonight, April 9th at 8:30 p.m. on NBC.
Source: The Advocate
–Angela