Got a Question for Thalía?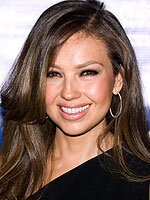 Charles Sykes/AP
With the release of her book Thalía: Radiante! — written with her obstetrician as a step-by-step guide to having a fit and fabulous pregnancy — coming up on May 12th, CBB will be chatting with singer Thalía about the roller-coaster of pregnancy and her tips for surviving it!
Now mom to daughter Sabrina Sakaë, 17 months, Thalía has filled Radiante! with information she wishes someone had told her — everything from how to build your dream-team for pregnancy and delivery, recipes for delicious 'mocktails' so you can still enjoy drinks with your friends, and the 'fourth trimester,' aka the first three months post-partum.
Have a question for Thalía? Leave it in the comments! Please note that the majority of the chat will be about her book, so please keep the questions focused on pregnancy and motherhood. Additionally, if you can leave your questions in English it would be greatly appreciated.